Next Generation 5250 terminal for IBM i
★ Web & Mobile ★ Cloud or Local
★ Biometric ★ Printing ★ Modernization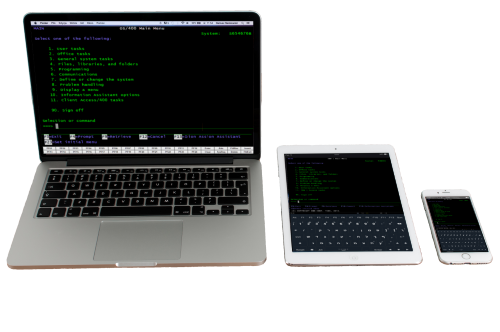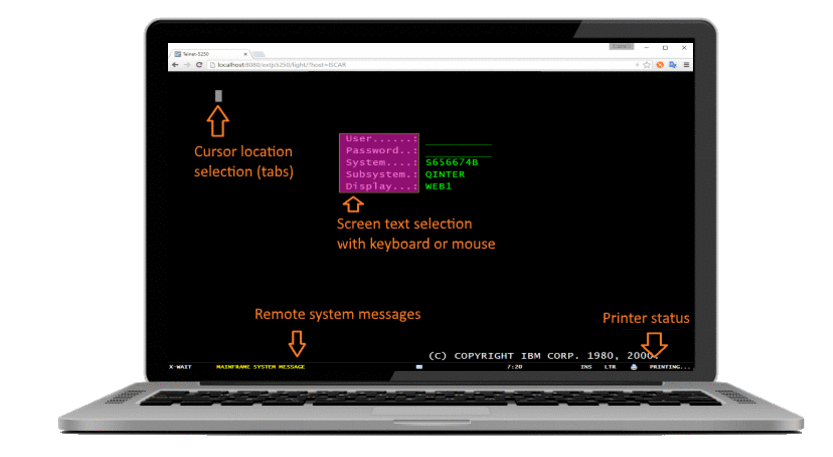 Browser
No installation, ultra fast and secure.
Supported on multiple browsers, any OS and without need for local installation.
Google OS & Chromebooks
MS Windows XP, Vista, 7, 10
Any Linux desktop distribution
Mac OS with Safari
Desktop
User friendly and easy to use with many features
Extension:

Browser extension enables user customization

Macros:

Record, save and reuse macros

Printer:

Web print to PDF, HTML, Web Template, JSON, RAW

Transfers:

File download and upload

Web admin:

Admin console with IP access control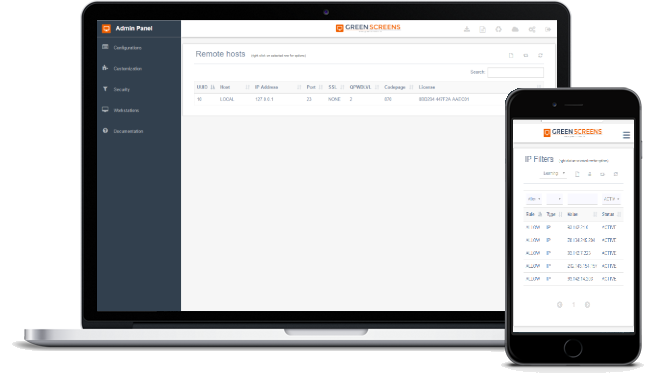 Mobile
Free mobile and tablet application
Network Friendly

Restore connection after network loss. Low data usage.

Multi language keyboard

Support for multiple languages with LTR and RTL.

Priting support

Print spool files to PDF.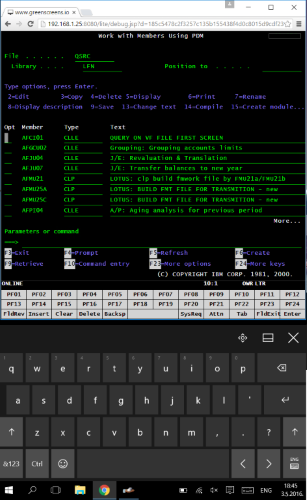 Tablet
MS Touch devices support
Ultra-Fast

Fast on low bandwidth, processor firendly, fast rendering.

Keybar

Support for terminal specific keys.

Highly secure

Data encryption even on unprotected network.
Security
Multiple security layers from encryption to access control and web console management.
2FA & Biometric

OTP Token, Mobile Fingerprint or FIDO Security Key protection

Mobile access control

Included mobile app UUID to control connections

Web access control

Included IP filter engine with learning mode
Advanced Features
Modernize screens with new UI
New modern approach to enhance 5250 screens.
Multiple techniques available for customer preference.
Templating engines

Use HTML templating engines to create modern web ui interface.

SPA engines

Use ETL engine to generate standardized JSON data structure used by many web SPA frameworks to render UI.
Modernize spool files
Export spool file data to PDF, MS Word or MS Excel.
Combine web templates and spool data to generate beautiful documents out of old spool files or use scripting to enhance spool PDF printing with custom elements like images or barcodes.
Templating engines

Use HTML templating engines to create modern web reports.

PDF scripting

Use server side JavaScript to modify spool file during printing by adding images, barcodes and many more.
Customize web terminal
Use Chrome extension for user preferenced setup.
Colors

Customize screen colors to create more pleasant visuals.

Display modes

Modern FullHD or legacy 4:3 display mode.

Fonts

Adjust font type and size to match various screen resolutions.

Macros

Record and play macros.
Powerful API
Use JavaScript API for advanced control.
Remote control

Call API from STRRMTCMD. Start or stop printer, change colors from CL etc.

Spool API

API to modify PDF spool file rendering with cutom elements.

A-HLL

Modern HLL API for web terminal interactions by 3rd party software.

Headless

Integrate terminal lib into custom application.
CLP and Browser Integration
Use JavaScript from CLP
Call JavaScript

Call various Tn5250 Browser API's or any other JavaScript function from CLP.

Messages and notifications

Create alert popup boxes or notifications to the user or play sounds.

Manage Virtual Printer

Start / stop virtual printer with different printing drivers from PDF to HTML or JSON etc...

Advanced

Enable integeration with online services like Paypal and many more.
Start in seconds
Easy install on multiple OS